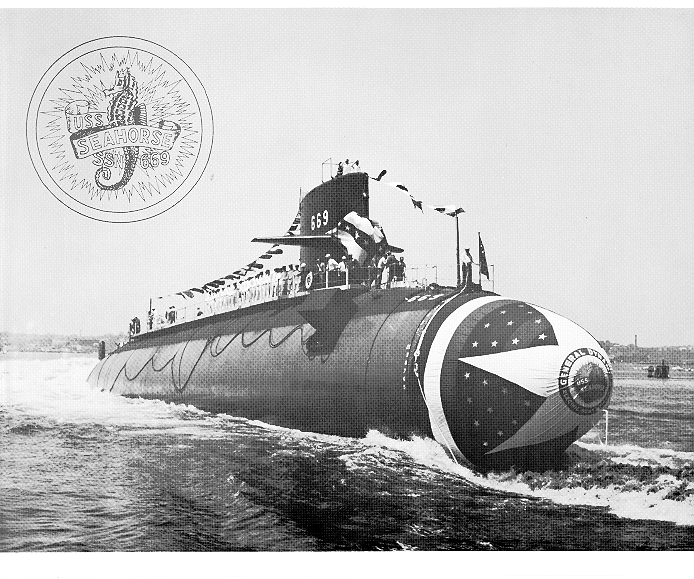 USS SEAHORSE SSN-669 was the Navy's 47th nuclear attack submarine at the time of her launching. She was sponsored by Mrs. Paul Ignatius, wife of the Secretary of the Navy. The commissioning ceremony took place on 19 September 1969 with CDR George Harper Jr. in command. Following a caribbean shakedown cruise and visits to Puerto Rico and St. Croix, Seahorse returned to her home port, Charleston SC, to join Submarine Division Forty-Two. For the remainder of 1969 and through November of 1970, she operated in the Atlantic and Caribbean areas.
On 30 November 1970, Seahorse got underway from Charleston on her first major deployment. She operated in the Atlantic and visited Bremerhaven, Germany before returning home. Seahorse again departed Charleston on 21 June 1971 for an extended Mediterranean deployment, for which she was awarded her first Meritorious Unit Commendation.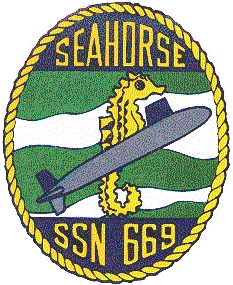 On 9 February 1972, Seahorse departed on her third major deployment in 14 months. This time she visited Faslane, Scotland before returning to Charleston on 11 May 1972. In September 1972 Seahorse once again left for the North Atlantic to participate in NATO exercise "Strong Express" followed by exercises with Great Britain, the Netherlands, and Canada. On 25 October 1973, she got underway on less than one days notice and deployed to the Mediterranean in support of US Forces in the Middle East crisis (editor's note: based upon conversations with crew members who participated...I believe they referred to this as the "we only had time to pack one pair of underwear" cruise). She remained at sea until 11 December 1973 with the exception of two stops, each less than one day in duration. While in the Mediterranean, CDR Nathan Heuberger relieved CDR William Ratliff who had been in command since September 1970. Seahorse returned to Charleston and entered the Charleston Naval shipyard in February 1974 (editor's note: the underwear walked off the boat on their own).



From 16 August till 26 September 1975, Seahorse was underway in company with the USS Nimitz and USS South Carolina as a unit of Navy Nuclear Task Group '75. Port calls were made in Germany, Scotland, and England. In 1976, she again deployed to the Northern Atlantic for three months. On 30 November 1976, Seahorse left Charleston for another Mediterranean deployment and returned 11 May 1976. On 22 January 1977, CDR Henry McKinney assumed command. Seahorse spent all of 1978 undergoing a refueling overall. In 1980, she deployed to the North Atlantic and the Mediterranean for 5 months with CDR Joseph Sharpe Jr. relieving as commanding officer in June 1980.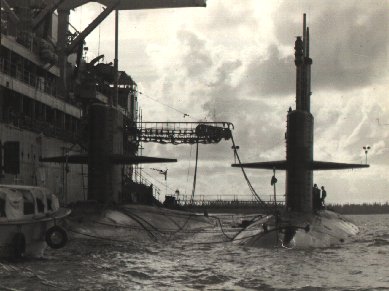 In July 1981, Seahorse participated in READEX 2-81, a Second Fleet exercise. She got underway for an extended overseas deployment to the Indian Ocean in October 1981. After a 46,000 mile, six month around the world voyage through five of the world's seven oceans, she returned to Charleston on 19 April 1982, completing a 181 day deployment. Also, during 1982, Seahorse participated in several NATO Anti-Submarine Warfare exercises in the North Atlantic.

Seahorse began 1985 deployed north of the Arctic Circle. Following a return to home port, Captain Jasper Johnston Jr. was relieved by CDR Winn Harding on 11 April 1985. Seahorse again deployed to the North Atlantic from August till late October 1985. In July 1986, she deployed to the Arctic and surfaced at the North Pole. She completed her second transit through the Panama Canal and reported to Bremerton, Washington for overhaul where she remained from February 1987 to March 1989. CDR Paul Taylor assumed command in August 1987.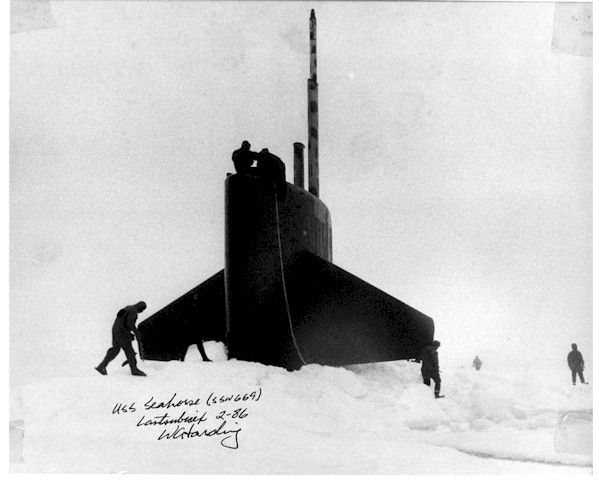 In June 1989, Seahorse returned to her home port and conducted local area operations for the remained of the year (editor's translation: played cat and mouse with the "ruskies"). From April to June 1990, she deployed on operation ICEX to the North Pole. On 22 June 1990, CDR James Alley relieved CDR Taylor. The remainder of the year the ship conducted local area operations. During 1991, Seahorse was awarded another Meritorious Unit Commendation for operations in which she surfaced again at the North Pole, deployed to the Northern Atlantic, and then the Mediterranean. In 1992, Seahorse participated in local operations. In October 1992, she participated in a Mediterranean deployment until April 1993. In January 1993, Seahorse was awarded the Battle Efficiency "E".

On 30 April 1993, CDR Richard Current relieved CDR Alley. For the remainder of 1993, Seahorse conducted local area operations. During her final year of service, she deployed as the submarine element in UNITAS XXXV-94, a five month circumnavigation of South America, for training and good will among our southern hemispheric neighbors. She completed her fourth Panama Canal transit returning to Charleston in December 1994.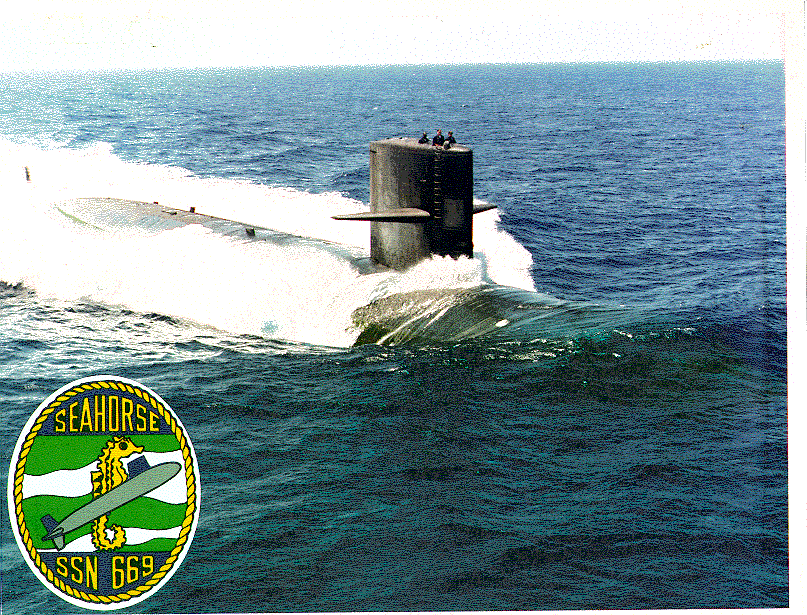 Seahorse was deactivated on 6 January 1995 in Charleston. She made one more trip through the Panama Canal on her way to San Diego for DSRV (Mystic) operations. Her final official duty was to act as the guard ship for the sea trials of the Los Angeles on her way to Bremerton. She entered Bremerton Shipyard in February 1995. Her systems were deactivated and her core removed. She was decommissioned on Aug 25th, 1995. During her 25 years of service, Seahorse sailed more than 736,500 miles, dived 1,117 times (and surfaced 1,117 times!), and passed through the Panama Canal five times. She was awarded one Navy Unit Commendation, three Meritorious Unit Commendations, and two Battle Efficiency "E"s.























SSN-669 Specifications

Length(ft-in) - 292-0
Beam(ft-on) - 32-0
Maximum Depth - > 400
Surface displacement(tons) - 4,060
Maximum speed(kt) - > 20
Complement: 15 officers and 126 enlisted at deactivation